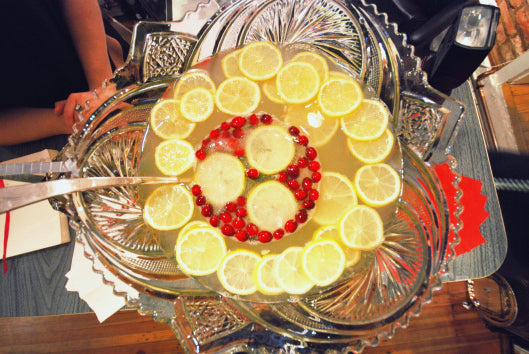 He smiled understandingly-much more than understandingly. It was one of those rare smiles with a quality of eternal reassurance in it, that you may come across four or five times in life. It faced–or seemed to face–the whole eternal world for an instant, and then concentrated on you with an irresistible prejudice in your favor. It understood you just as far as you wanted to be understood, believed in you as you would like to believe in yourself, and assured you that it had precisely the impression of you that, at your best, you hoped to convey.
We celebrated the holidays this year in all our Gatsby glory.  Our window displays were splendidly decked out in true art deco style.  Yes, we decided to throw our annual holiday tasting bash with Tom and Daisy in mind.  This past Tuesday night, our guests donned their best festive attire and celebrated the night with us.
Alex Bookless of The Passenger was our guest bartender for the evening.  She started the tasting off with a spectacular French 75 punch.  We thought it presented beautifully in our period vintage McKee punch bowl, and our guests seemed to agree.
Her recipe is simple, and simply irresistible:
French 75:  Shake over ice and strain into a champagne glass 1oz. gin, 3/4 oz. fresh squeezed lemon juice and 3/4 oz. simple syrup.  Top with champagne and garnish with a lemon twist.
Our guests mingled on both of our floors enjoying each other's company and the festive atmosphere of The Hour.
Next Alex served a Bee's Knees period cocktail.  The easy-to-sip cocktail, finished differently than how it first presented itself.  As Alex pointed out, it's just like a man!
Bee's Knees:  Shaker over ice and strain into a cocktail glass 1 1/2 oz. gin (Alex prefers Ransom gin), 3/4 oz. fresh lemon juice, 3/4 oz. honey syrup and 2 dashes of Scrappy's lavender bitters.  Garnish with a lemon twist.
The final cocktail tasting Alex served for the night was the Seelbach.  Another period drink, the cocktail originated in 1917 in Louisville, Kentucky at the hotel where it derived its name.
Seelbach:  Stir in a cocktail pitcher and strain into a coupe 1 oz. bourbon (Alex prefers Bulleit), 1 oz. Cointreau, 7 dashes of Angostura bitters and 7 dashes of Peychaud's bitters.  Garnish with an orange twist and top with champagne.
Many thanks to Alex and The Passenger for co-hosting a wonderful evening that would have made F. Scott Fitzgerald proud.
From all the staff of The Hour, we wish you a very Merry Christmas and all the best in 2014.  Cheers!!