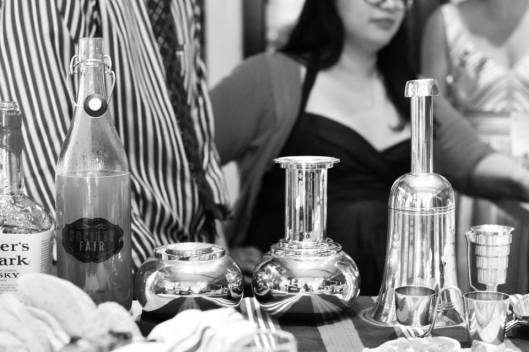 Last Tuesday, The Hour celebrated 4 years in business!  And, looking back, it's been a very busy time for us.  In those 4 years, we opened our flagship store in Alexandria, Virginia, we wrote and self-published Capitol Cocktails (which explores and celebrates the DC cocktail scene), we opened two boutique stores in Neiman Marcus and we began selling our vintage and new items on our website, www.thehourshop.com.  I would be terribly remiss if I did not thank all the wonderful employees of The Hour.  The store wouldn't be what it is without all your hard work and I certainly could not have made any of these achievements without all your great assistance.
As for our event, while the rain prevented us from having our garden party outdoors, we improvised quickly (as all good hosts do) and celebrated our anniversary indoors surrounded by our beautiful glassware, barware, customers and friends.  Society Fair graciously provided a wonderful assortment of appetizers and Todd Thrasher of Eat Good Food Group concocted some wonderful cocktails for the anniversary celebration.
Included was Thrasher's twist on a "Boris Karloff" cocktail, it's name inspired by the play Arsenic and Old Lace, where two sisters murder a series of men with poisoned elderberry wine.    In his cocktail, Thrasher mixed St. Germain (an elderflower liqueur), 42 Below vodka, kaffir limes, and lime juice in our vintage 1960's Moderna punch bowl.  We served the punch from our new vintage bar of the same era (and if you haven't seen it, you really must come check it out!).
Our second cocktail for the evening was a "Peach Donkey" cocktail.  Thrasher probably named this drink for it's great kick!  Andrius Miliunas, who bartends at the wonderful PX a couple blocks from the store, shook up Thrasher's second cocktail concoction with great fanfare throughout the evening.  Our guests especially loved his use of our vintage jiggers and shakers.  The second cocktail contained Maker's Mark and Thrasher's delicious house made peach syrup.
It's hard to believe that it's been 4 years since I first came up with my idea of a "cocktail store."  Little could I have imagined that it would be so well received by our customers and our community.  I truly count my blessings and thank you all!