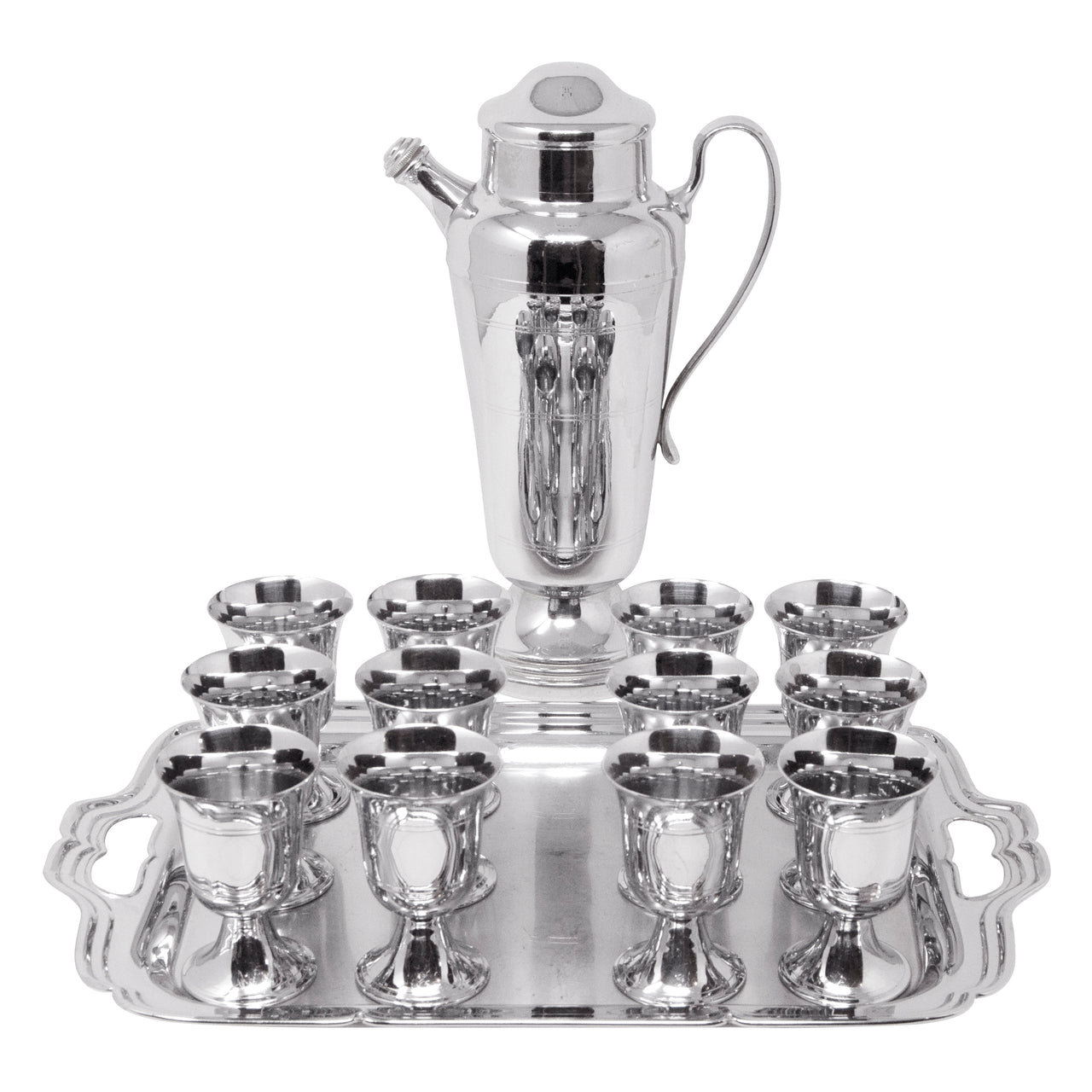 Farberware Chrome Plated Cocktail Shaker Set
Item No. 00018477
Designed by Farberware Bros. of Brooklyn, NY, this stunning and complete chrome cocktail shaker set includes a cocktail shaker, 12 pedestal cocktail cups and serving tray.  The Prohibition era shaker features etched double horizontal lines, a pedestal base, ear shaped handle, and screw off spout.  The shaker measures 11 3/4" high by 7 1/4" wide.  The cups hold 3 oz. and measure 3 5/8" high by 2 3/8" wide.  The wing shaped handled tray measures 16 1/8" long by 10 5/8" wide and has 
raised edges.
Designed by Farberware Bros. of Brooklyn, NY, this stunning and complete chrome cocktail shaker set includes a cocktail shaker, 12 pedestal cocktail cups and serving tray.  The Prohibition era shaker features etched double horizontal lines, a pedestal base, ear shaped handle, and screw off spout.  The shaker measures 11 3/4" high by 7 1/4" wide.  The cups hold 3 oz. and measure 3 5/8" high by 2 3/8" wide.  The wing shaped handled tray measures 16 1/8" long by 10 5/8" wide and has 
raised edges.
Shipping & Return Policy
+
-
We only ship items within the continental United States.  We ship through a proven UPS packaging service and guarantee that our items will arrive in the condition we present on our website. Charges for shipping include professional packaging, insurance and UPS Ground Delivery. Our shipping time averages 1 week and can be as long as 2 weeks to deliver during the holiday season and other peak periods. 
Due to the nature and high-quality of our vintage items, we do not accept refunds or exchanges. Please feel free to contact us for more information.