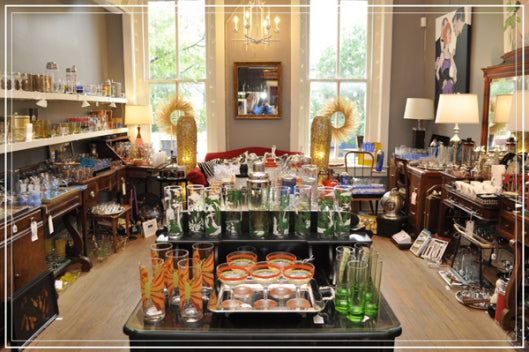 For small businesses like The Hour, this Friday marks the beginning of the five most important weeks in retail.
For six years, The Hour has had the privilege of being located in one of the most unique retail communities in the United States, Old Town Alexandria.  Approximately 80 percent of the stores that reside in our walkable city are locally owned and operated, helping keep important tax dollars working in our community.
Being a small business, we enjoy offering both local customers and those from out-of-town a store full of one-of-a-kind items for the home bar.  We pride ourselves on our high level of customer service and are delighted to share our knowledge of our products with you.  We love when our returning customers rave about their purchases and share pictures of their home bars with us.  Others will tell us about memories they have growing up with some of our vintage products while others let us know how much their gifts from our store meant to the recipients.  We are truly grateful to them all and will continue to take great pride in assisting all who visit The Hour.
We hope that this holiday season, you will do your best to shop local and support small independent stores.  They are what makes your community special.  As our thanks to you, we are offering 10% off all items store wide as well as on our website this Friday and Saturday.  In addition, from now until the end of the year, we are offering free shipping on all on-line purchases.
We thank you for supporting us and wish you and yours a wonderful holiday season!