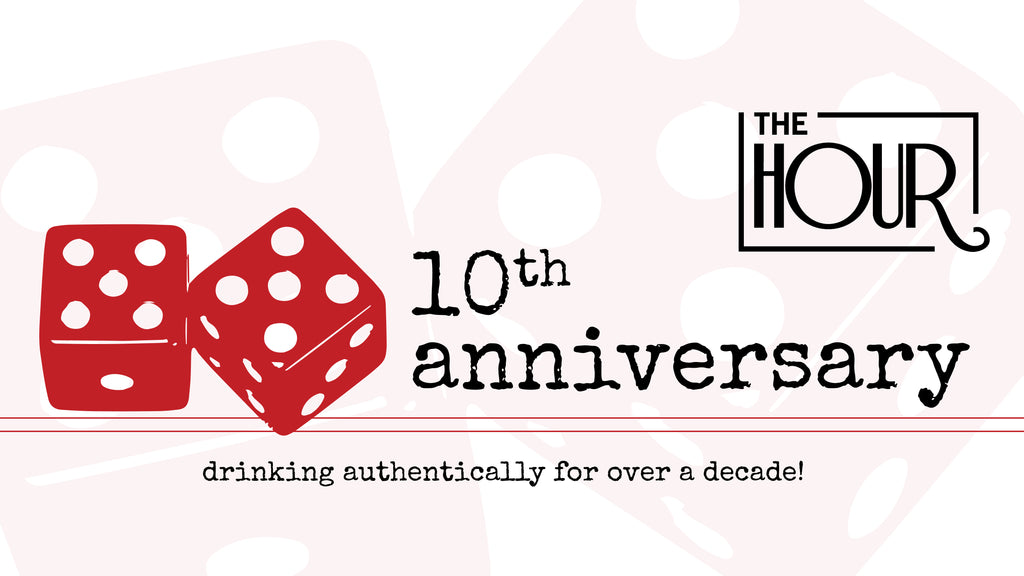 It's hard to believe that it's already been a decade since I first opened the doors of The Hour! In June 2009 I started The Hour as a new retail concept, a store dedicated strictly to cocktail supplies. What began with a small selection of my private vintage bar and cocktail glass collection has developed into a much larger collection of one-of-a-kind vintage barware items along with a growing selection of new cocktail supplies. Over the years we have added bitters, syrups and new bar and glassware items that fit the design aesthetic and high quality ideals of the shop, out of a desire to provide enduring quality home bar products for our dedicated coctalian customers. 
We celebrated our tenth anniversary this summer and had the good fortune of having guest bartender Alex Taylor of Hanks Oyster Bar behind the bar at our event. Alex began the evening offering a deliciously creative Welcome Punch to our guests
Welcome Punch
Belle Isle Blood Orange Moonshine
Lemon Ginger Tea
Watermelon
Citrus
Cinnamon
Sugar
Edible Flower Garnish
We then moved the party upstairs where Alex prepared tastings of two more cocktails.
His first original creation to honor our first decade in business was the 10 year Mule.
10 Year Mule:
1.5 Oz. Catoctin Creek Rounsdstone Rye
1.0 Oz Hibiscus Syrup
1.0 Oz. Lime Juice
.5 Oz Pineapple Juice
2 dashes Angostura Bitters
Top with Ginger Beer
The second was Alex's take on the classic Bee's Knees cocktail, spiced up with his own Black Pepper Honey Syrup! 
Bee's Knees
2.0 Oz Catoctin Creek Watershed Gin
1.0 Oz Lemon Juice
1.0 Oz Black Pepper Honey Syrup
1 dash Orange blossom Water
Bittersweet catering provided delightful nibbles through the the evening. A good time was had by all, and I couldn't be more thankful for all of our loyal customers past and present, our many vendors, and most of all, the wonderful staff throughout the years who have shared their knowledge of and passion for the art behind the cocktail with you. I'm looking forward to journeying into the next decade of The Hour with all of you!
Cheers, Victoria