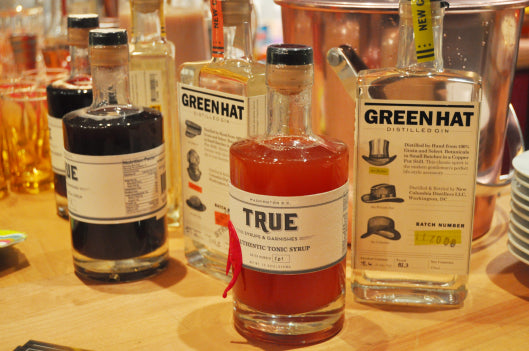 Following the holidays, some consumers of alcoholic beverages decide January is the month to refrain from drinking (they call this month "Drynuary").  Instead, we thought it would be more fun to celebrate this month with our very first "GIN-uary" event.  And it was one to remember!
We love introducing our loyal customers to makers in the spirits industry who, in turn, share their knowledge of their products and provide a variety of tastings for them to appreciate and enjoy.  In our store last week, we had the privilege of hosting two of our favorite local makers:  Tory Pratt of True Syrups & Garnishes and John Uselton of New Columbia Distillers.
With a background in international development, Tory, like many of us, began her second career out of her passion for cooking and her love of cocktails.  Tory began True Syrups in a small DC kitchen in 2014 and, with the growth of her business, now operates out of a food incubator space in Northeast D.C.  The company produces high quality, small batch mixers made from natural ingredients, spices and botanicals.  Tory has been a friend of The Hour since she first started selling her products.  In fact, The Hour sold some of Tory's very first batch of Tonic syrups in January of 2015!  Since that time, Tory has expanded her product line to include grenadine and, most recently, kola syrup (all are available at The Hour).  For our Gin-uary event, Tory brought samples of all three of her products for use in the cocktail tastings.
John, who has had a long and successful career in the food services industry, entertained and educated our guests on the background of Green Hat Gin, as well as the differences in the variety of gins he produces.  In 2011, John and his partner Michael Lowe decided to reintroduce craft distilling in the District of Columbia since its ban in 1917 due to Prohibition.  They decided to begin distilling gin and would name it Green Hat Gin.  John recanted the story behind the aptly-fitting name:  George Cassiday, a supplier of bootleg liquor on Capitol Hill got caught selling booze in the House Cannon Office building after having done so for 5 years.  Cassidy, who was caught while wearing a green felt hat, decided to move his operation to the Senate side of Congress and continued as a bootlegger for another 5 years until he was caught again.  In 1930, after having bootlegged liquor to most of the lawmakers on the Hill for over a decade, Cassiday wrote a series of articles for the Washington Post exposing the hypocrisy of Congress with regards to Prohibition.  These articles helped inform voters, many of whom helped to elect new officials who, in turn,  repealed Prohibition.
John brought three of his gins for use in our GIN-uary cocktail tastings:  Green Hat Spring Summer Gin (which features juniper, floral cherry blossoms, clover, rosemary and fresh citrus); Green Hat Classic Gin (which features juniper, coriander and hints of citrus,   pepper and celery); and Green Hat Navy Strength Gin (a higher proof gin than classic gin that has its own fittingly-named story:  per John, "back in the day when sailors were given a daily ration of gin or rum, they would occasionally mix their liquor with gun powder and try to ignite it. If the powder-liquor brew ignited, they knew their liquor wasn't watered down.").  In addition to these gins, Green Hat makes other seasonal small batch gins as well.  John also sells DC's first commercially available vermouth, Capitoline Vermouth.  John told us that he is in the process of aging a rye whiskey but that that spirit won't be available for a couple more years.  All of New Columbia Distillers products are available at their distillery in Northeast DC as well as a variety of liquor stores throughout the District area.
When Tory and John combined their products, the magic happened!  They produced a wonderful assortment of tastings for our GIN-uary evening:
Snowbird (Closer to the Sun) Punch
1 bottle sparkling wine
1 bottle Green Hat Spring / Summer Gin
2 cups fresh squeezed grapefruit juice
2 cups fresh squeezed orange juice
2 cups fresh squeezed lemon juice
3/4 cup demerara oleo saccharum
Combine all in a punch bowl, stir with ice & garnish with citrus slices
Gin & Gunpowder
1.5 oz navy gin
1 oz whole milk
1 oz Kola Syrup
dash orange bitters
2-3 oz club soda
Combine in a collins glass over ice, stir briefly, garnish with nutmeg
Rosemary's Baby
1.5 to 2 oz gin
1 oz True grenadine
2 oz white grapefruit juice
Shake over ice, strain into a cocktail glass, garnish with a rosemary sprig
Indian Winter
1.5 oz gin
1 oz true tonic
3 oz club soda
Combine over ice in a cocktail glass, stir briefly, garnish with a clove studded blood orange wheel
For those of you who were able to join us for this GIN-uary event, we appreciate your loyalty and hope that you enjoyed our evening as much as we did!
We look forward to hosting our next cocktail tasting event and will keep you informed through our e-mails.  And remember, we always offer a shopping discount during our events… another great reason to come!  If you haven't already done so, be sure to sign up for our private customer events via our website: 
TheHourShop
.
Cheers to GIN-uary!