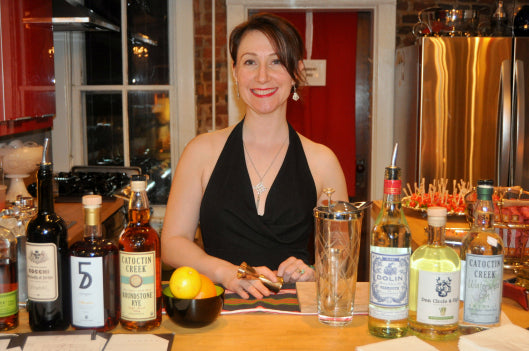 Introducing The Hour's customers to the wonderful world of holiday cocktails using Italian liqueurs!
Last night we held our 6th annual holiday cocktail party  here at The Hour.  It was truly wonderful seeing so many familiar faces and growing number of friends.  Our co-hosts for the evening were artisanal spirits maker Don Ciccio & Figli and one of our favorite neighborhood restaurants, Vermilion.  Vermilion's fabulous Lindsay Parsons was our guest bartender for the night.  Lindsay concocted 4 delicious tastings for the evening featuring Don Ciccio's Italian liqueurs and a variety of spirits from local distiller Catoctin Creek.
Jonathan Fasano of Don Ciccio & Figli was on hand to provide tastings of 4 of his company's wonderful apertifs and digestifs.  The 4 we tasted last night were the Nocino (a green walnut, cinnamon and clove liqueur), their Cinque (a bitter orange and botanical aperitivo), a delicious Finocchietto (a liqueur infused with fennel, herbs and spices) and their barrel aged Amaro delle Sirene (a traditional Italian inspired bitter liqueur).  These 4 liqueurs provided the inspiration for our 4 holiday cocktails this year.
We started the evening off toasting our holiday guests with the Nutty In-Laws.  We always love to greet our guests with a punch, especially one served in a beautiful vintage silver plate punch bowl like this mid-century one by Towle.  Our evening's eggnog punch contained 1757 Brandy, Don Ciccio's Nocino and Fee Brothers Black Walnut bitters.  Simple and simply delicious!
Second up last night was Lindsay's Lights on the Boulevard cocktail.  We had fun showing off some of our vintage barware as the evening progressed.  Many of our guests had never seen the vintage Napier Press & Release jigger in action.  It truly is a wonderful jigger to behold as the spirits are released from the bottom of the jigger as the handle is pressed in.  This wonderful cocktail tasting included Catoctin Creek's Roundstone Rye, Don Ciccio's Cinque and Cocchi (sweet vermouth).
Who Needs Mistletoe? was our third cocktail tasting for the evening.  This delectable cocktail included Catoctin Creek's Watershed Gin, Don Ciccio's Finocietto, Dolin Blanc, lemon and a splash of brut riesling.  I'm not sure any of us needed mistletoe after this tasting!
Finally, Lindsay ended the fun holiday night with Baby, It's Cold Outside.  This nightcap tasting included Catoctin Creek's Roundstone Rye, Don Ciccio's Amaro de Sirene, fresh grapefruit and Cocchi.  It truly was a fun, festive and wonderful night shared with so many friends of the store.  Stay tuned for more party pics… you might see yourself or someone you know!
For more one-of-a-kind vintage entertaining ideas, visit us at our online store: