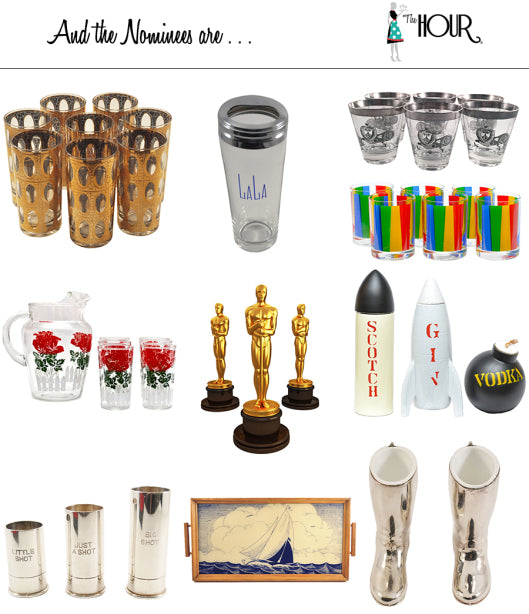 I just want to thank everyone I've ever met in my entire life. – Kim Basinger
It's one of our favorite nights of the year… the Academy Awards!  We love to entertain at home and there is nothing finer than throwing an Oscar viewing party for friends and loved ones.  For us, dressing up (or down and refusing to wear high heels), sipping champagne cocktails, munching on fun themed appetizers and playing Oscar Bingo is a highlight we look forward to each year.  And, of course, we binge watch as many of the nominated movies as we can in anticipation of the big night.
For this year's Oscars, we couldn't help but continue our tradition of offering you our Best Barware selections for Best Picture.  We hope you have as much fun seeing our selections as we had picking them out for you!
For Best Barware for this year's Best Pictures, the Nominees are:
Arrival:  For a truly out-of-this-word cocktail experience, we know Amy Adams would appreciate sipping out of these 22k gold wrapped glasses with oval shape designs.
#7641 Set of 8 Culver Pisa Collins Glasses, $320
La La Land: Emma Stone and Ryan Gosling might sing and dance another tune if they enjoyed a cocktail shaken out of this fabulous 1920's movie-inspired cocktail shaker.
#12489 La La Turn & Pour Glass Cocktail Shaker, $495
Lion:  After his inspiring performance, we think Dev Patel deserves a drink in these sterling silver lion emblazoned old fashioned glasses.
#20065 Set of 6 Georges Briard Lion Double Old Fashioned Glasses, $450
Moonlight: We celebrate the journey of self discovery that this movie showcases with these proud rainbow rocks glasses.
#7927 Set of 6 Georges Briard Rainbow Stripe Rocks Glasses, $250
Fences: We feel Viola Davis would have loved to have served Denzel Washington some lemonade from this Mid-Century pitcher set to go with his gin.
#5602 Rose Fence Pattern Cocktail Pitcher Set (includes 6 Collins Glasses), $150
Hidden Figures: Cheers to the three brilliant and brave minds of the women who helped break down color barriers as well as reach the moon!
#13599 Ceramic Davar Atomic Decanter Set, $1200
Hacksaw Ridge: We raise a toast to Andrew Garfield's inspiring and bullet-dodging performance in the true story of a brave soldier saving so many lives without firing a single shot.
#19836 Silverplate 3 Jigger "Shot" Set, $550
Manchester By The Sea: We celebrate Casey Affleck's portrayal of navigating the rough seas of life with this serene sea scene tray.
#17578 Art Deco Reverse Painted Sailboats Tray, $225
Hell or High Water: These boots were made for drinking after Jeff Bridges' quest for vengeance.
#19131 Pair of English Boot Jiggers, $295
We hope our selections will inspire you to throw a great party at your house this year while watching the Academy Awards Sunday night.  And Cheers to all those Nominated… we look forward to seeing you at the Oscars!
For more great vintage barware, visit us online at TheHourShop, and check us out on Pinterest for fun entertaining ideas!