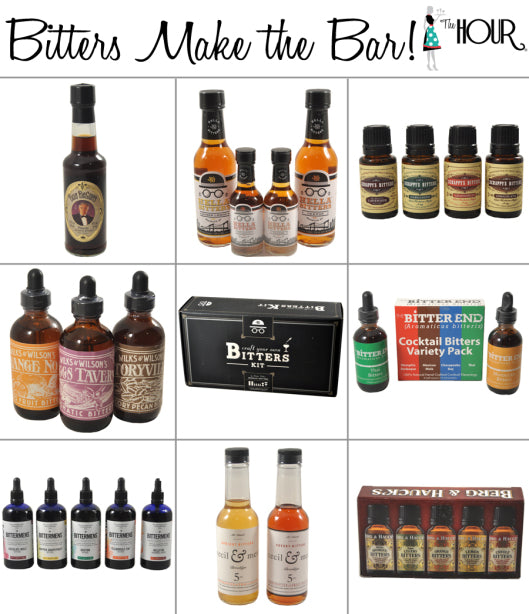 Bitters are the salt and pepper of cocktails. 
As early as 1806, cocktails were described as being a mixture of spirits, sugar, water and bitters.  While bitters were originally produced for medicinal purposes, they quickly found their way into cocktails and were used in a variety of drinks up until the time of Prohibition.  During the latter part of the 20th Century, however, the use of bitters in cocktails was virtually unheard of.  Fortunately, bartenders of the 21st Century have reintroduced bitters into their drinks and bar programs.  As a result, more cocktailians are now aware of and interested in bitters and see them as an essential component in cocktails.
Why are bitters so important in drinks?  Simply put, they add flavor to them.  By definition, bitters are an alcoholic preparation that use botanical ingredients (aromatic herbs, bark, roots and/or fruit flavorings) to produce a bitter, sour or bittersweet flavor.  While they can be used as a digestif on their own, when added to cocktails, they change the flavor profile of the cocktail.  Think of bitters this way:  what spices do to food, bitters do to drinks.  While primarily used in cocktails, because of their flavoring component, bitters also can be used in food preparation.  They're especially great to use in sauces.
At The Hour, we recognize this renewed interest in bitters and have significantly expanded the lines of bitters we carry.  Among other bitters, we are now pleased to offer the following:
Dale DeGroff's Pimento Aromatic Bitters (5.07 oz.), $19.50
Hella Bitters Orange & Lemon Ginger (5 oz.), $18.95 each/'Salt & Pepper' Pack (1.7 oz.), $20.50
Scrappy's Bitters Exotic Variety 4 Pack (0.5 oz.), $35.00
Wilks & Wilson Aromatic, Citrus and Chicory Pecan Bitters (4 oz.), $19.50 each
Hella Bitters Craft Your Own Bitters Kit, $66.95
Bitter End Thai & Moroccan Bitters (2 oz.), $22.95 each/Variety 4 Pack Bitters (0.5 oz), $25.95
Bittermens Bitters Boston, Hopped Grapefruit, Habanero Shrub, Mole & Tiki Bitters (5 oz.), $19.95 each
Cecil & Merl Apricot and Cherry Bitters (5 oz.), $26.95 each
Berg & Hauck Bitters Kit, 5 Varieties (0.5 oz. each), $26.95
In addition to bitters, we also carry an expanded variety of sryups, tonics, mixtures and other tinctures for cocktails and mocktails as well.  We stand by our motto.  We truly are "dedicated to all things cocktail" and are determined to bring you the very best.
For more, visit us at: