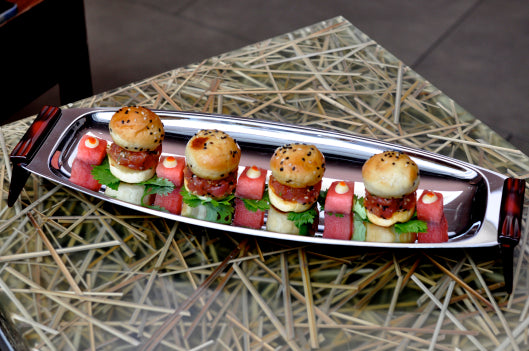 Glo Hill's classic and stunning barware and serving pieces have withstood the test of time.  They are a wonderful addition to modern home entertaining.
At The Hour, we are simply enamored with beautiful design.  When it comes to classic vintage bar tools, barware and serving pieces, it's hard to beat the designs of Glo Hill of Canada.
Founded in Montreal in 1945, the Glo Hill Company was the creation of brothers-in-law Jack Globus and Harry Hill.  Jack's brothers, Leo and Saul, joined the company shortly after its creation.  The Globus brothers along with Harry Hill began developing Glo Hill's brand which quickly became common place in high end retail outlets.  What started with picture frames and cutlery items, soon developed into chrome holloware pieces used in home entertaining.  Serving pieces (some of which were tiered) along with other kitchen items were labeled as Gourmates by Glo Hill.  Many of these pieces featured wood and bakelite handles.  While raw bakelite was imported from the U.S., all the handles and accents on Glo Hill's pieces, along with their style and shape, were manufactured in Glo Hill's Canadian factory.
#17155 Glo Hill Iridescent Serving Set
#16579 3 Piece Syrup and Garnish Server
By the 1960s, Glo Hill began offering barware products under the label Barmates.  Stunning sets of bar tools and cocktail shakers and pitchers with chrome and gold plate finishes were produced. Bar tools included jiggers, double jiggers, stoplight jiggers, hawthorne strainers, bar spoons, bar knives, ice tongs, bottle openers, appetizer forks, appetizer knives and cheese servers.  Again, these pieces featured many colors of bakelite handles and accents and were sold in small and large sets.
#16342 Glo Hill Chrome Pitcher
#11261 Glo Hill Barware Set with Cocktail Shaker
#15598 Glo Hill 3 Piece Bar Tool Set
#17209 Glo Hill Appetizer Forks
By 1970, Jack Globus and his original partner Harry Hill had retired.  The two remaining brothers continued to operate Glo Hill until it closed in 1979.  At it's peak, the company employed 160 individuals and produced some of the finest barware and serving pieces of its time.  At The Hour, we believe Glo Hill's timeless mid century products are a must for any modern home bar.
For more, visit us at: