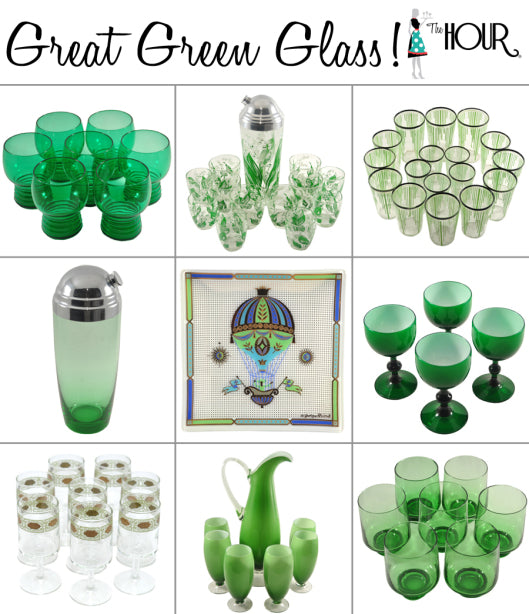 May the luck of the Irish be with you!
After a long cold winter, the promise of spring is finally here.  In Alexandria, we start the season off right with an early St. Patrick's Day Parade.  On March 7, you'll see Old Town all decked out in green and gold, including here at The Hour.  To set your spirits on our festive town holiday, we've got some great ideas for you:
#14182 Set of 7 1930s Footed Green Glasses, $140.00
#15030 1930s Lily Of The Valley Cocktail Set, $375.00
#7329 Set of 17 Art Deco Hand Painted Green Stripe Glasses, $350.00
#18214 1930s Green Glass Cocktail Shaker, $350.00
#13393 Mid Century Georges Briard Hot Air Balloon Glass Tray, $150.00
#17747 Set of 4 Mid Century Green, White Cased Italian Stems, $160.00
#16315 Set of 8 Mid Century Light Green & Gold Filigree Stems, $200.00
#13193 Mid Century Emerald Cased Glass Cocktail Pitcher Set, $895.00
#9574 Set of 7 1970s Weighted Green Rocks Glasses, $175.00
Happy Spring!!  And cheers to finding that pot of gold at the end of the rainbow!
For more, visit us at: