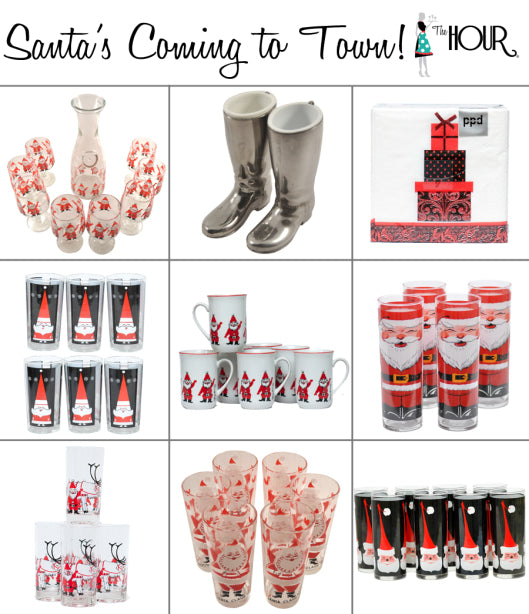 He's making a list
And checking it twice
Gonna find out Who's naughty and nice
Ho! Ho! Ho!  We know you've made the nice list this year.  And what better way to celebrate this holiday season than with some festive holiday cocktail ware?  We've got some great items for you to choose from, including:
#18373 Georges Briard Waving Santa Wine Set, Carafe & 8 Goblets, $425.00
#17789 Pair of Silverplate English Boot Jiggers, $295.00
#9541 Present Cocktail Napkins, $6.00
#13198 Triangle Santa Collins Glasses, Set of 6, $120.00
#9729 Georges Briard Santa Mugs, Set of 7, $210.00
#16245 Georges Briard Smiling Santa Collins Glasses, Set of 4, $160.00
#10051 Georges Briard Santa & Reindeer Tumblers, Set of 5, $175.00
#7175 Good Cheer Santa Tumblers, Set of 6 – $180.00
#9386 Tall Hat Santa Collins Glasses, Set of 8 – $200.00
Just think how much Santa will enjoy drinking his milk or spiked egg nog out of one of these festive glasses!  Wishing you and yours Happy Holidays!!
For more wonderful holiday entertaining ideas, visit us at: