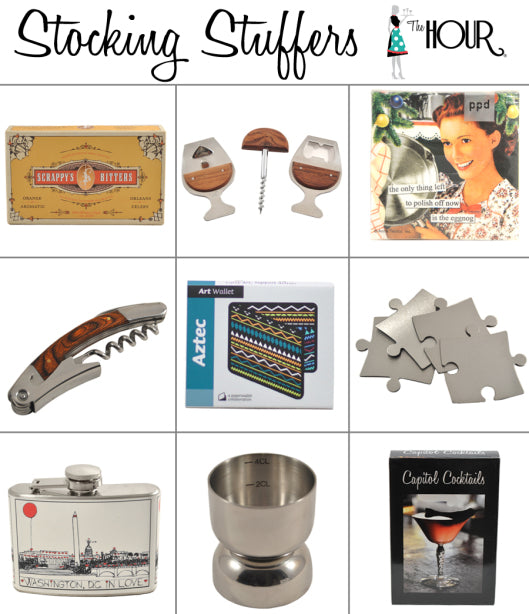 The stockings were hung by the chimney with care…
Some of our favorite items this holiday season are perfect for stuffing his and her holiday stockings.  Not pricey, perfect size… just right!  Here are a few of our favorite things:
#18357 Scrappy's Bitters (Orange, Aromatic, Celery, Orleans) .5 oz bottles, $35.00
#13743 Vintage 3 Piece Mid Century Bar Tool Set, $85.00
#18345 Anne Taintor 'Eggnog' Cocktail Napkins, $6.00
#18369 Rosewood Corkscrew, $22.00
#15576 Aztec Print Paper Wallet, $17.50
16959 Stainless Jigsaw Puzzle Piece Coasters, Set of 4, $25.00
#16587 Washington D.C. In Love Flask, 4 oz., $25.00
#17353 Stainless Steel Double 'Club' Jigger, $16.50
#13801 Capitol Cocktails Recipe Cards, $19.95
Wishing you and yours a very Merry Christmas!!
For more great holiday gift giving ideas, visit us at: