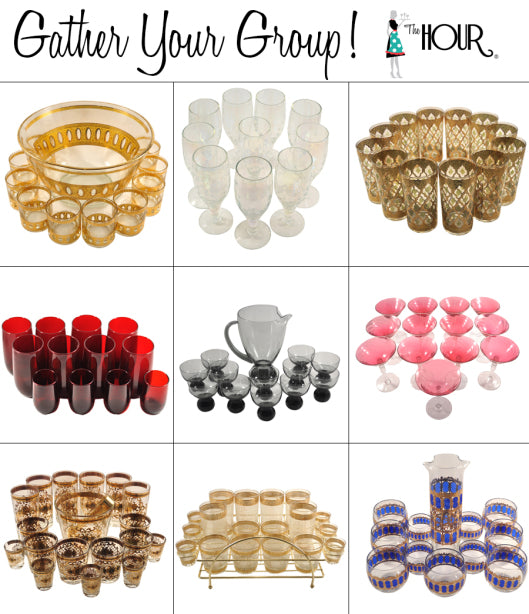 Open your home with hospitality this holiday season! 
Today I read a great article in the Food section of the Washington Post written by M. Carrie Allen, the Post's spirits columnist.  In her article, Allen extols the virtues of bartenders who go beyond mixing great drinks by providing a warm, friendly and inviting atmosphere in their bars.  I couldn't agree more.
For me, this atmosphere of hospitality during the holidays is even more relevant when talking about entertaining at home.  As a kid, one of my favorite memories during the holiday season centered on the cocktail hour before dinner.  While Mom prepared our holiday feast, Dad would prepare cocktails for all our house guests, including the kids.  For the adults, Dad would have a simply stocked bar and always featured his Martinis and Manhattans.  For those of us under the drinking age, Dad made simple Shirley Temples and served them using my Mother's etched stemware.  Everyone felt so special.  It's a memory I simply will never forget.
These memories are, in part, why I created the idea of a "cocktail store" and opened The Hour (nearly 7 years ago).  I wanted to bring back that special feeling when welcoming guests into your home.  For me, the 20th Century truly was a time when home entertaining was at its finest.  Barware and glassware was at its finest as well.  Cocktails were served with panache, often out of small glasses so that hosts and hostesses would have to interact with their guests as they refilled their drinks.  Glassware was either etched or adorned in silver, gold or colorful patterns.  By the 1970s, most of the companies that produced an astonishing array of cocktail ware here in America were gone.  And gone too were all the molds and creative talent behind them.
Luckily, with the turn of this century, the cocktail movement has returned and, with it, a renewed interest in entertaining at home.   Because of their exceptional qualities, vintage barware and glassware is increasingly becoming a big part of it.  While new cocktail ware can be nice, we think vintage is special as it is a direct link to America's golden age of hospitality and home entertaining.  Your guests will appreciate the thought and care you put into making memorable occasions when you treat them using unique vintage cocktail ware.
To help you with your holiday gatherings this year, we've got some great ideas:
#4979 Culver Antigua Punch Set $550
#18147 Draping Iridescent Stems, Set of 10 $350
#19207 Culver Valencia Collins Glasses, Set of 12 $480
#19184 Anchor Hocking Royal Ruby Glasses $350
#9303 Morgantown Smoke Cocktail Pitcher Set $475
#18100 Art Deco Cranberry Swirl Coupes, Set of 13 $1000
#10321 Gold Lattice Ice Bucket Set $450
#18419 Starlyte Gold & Frosted Weave Caddy Set $675
#14831 Culver Azure Blue Scroll Cocktail Pitcher Set $625
This holiday season, we encourage everyone to open up their homes and entertain with the idea of truly treating your guests.  Dress your house, dress yourself and don't forget to dress your bar.  Play your favorite music, share stories and create new memories.  Serve your favorite foods and spirits.  And, most importantly, be hospitable.
Find more one-of-a-kind vintage entertaining ideas, visit us at our online store: