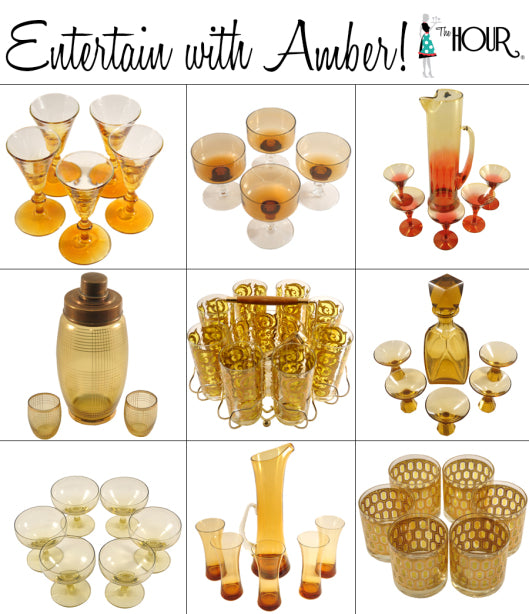 Warm and everlasting memories are made best at home…
As the temperatures drop and Thanksgiving Day approaches, there's no better time to start thinking about entertaining at home with family and friends.  We think every modern home bar should have some great jewel tone glassware, especially in shades of amber.  There is nothing like sipping a dark colored spirit out of a vintage amber glass.  Especially when sipping surrounded by those you hold dear.
This holiday season, we've got many great one-of-a-kind vintage glassware sets for you to entertain with in beautiful tones of amber, including:
#11997 Amber Cordials, Set of 5 $100
#9335 Sasaki Harmony Amber Coupes, Set of 4 $150
#18855 Amberina Cocktail Set $450
#17809 Czech Art Deco Cocktail Shaker Set $475
#16910 Yellow & Gold Ice Bucket Caddy Set $495
#14502 Amber Art Deco Decanter Set $525
#11869 Russel Wright Yellow Mini Coupes $150
#13510 Hand Blown Amber Cocktail Pitcher Set $350
#14626 W. Virginia Glass Hexagon Rocks, Set of 6 $240
We wish you and yours a very Happy Thanksgiving!
Find more one-of-a-kind vintage entertaining ideas, visit us at our online store: