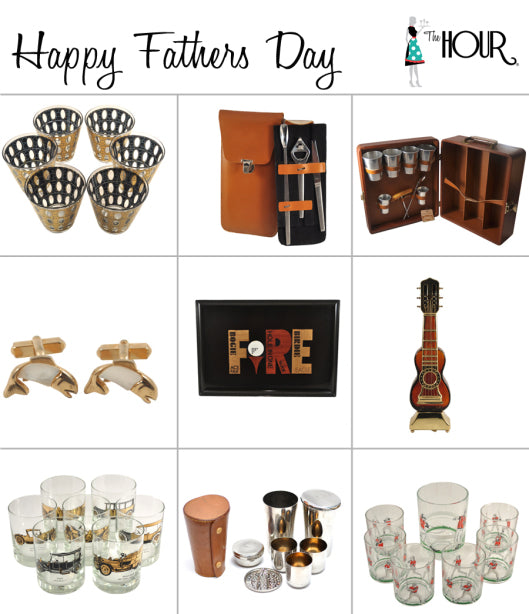 A classic Dad deserves a classic gift
Father's Day is right around the corner, so it's time to start thinking about a great gift to show your Dad some love. We can't think of a better Father's Day present than a vintage treasure from The Hour! He deserves a nice cocktail break from all his hard work, and we know how to do that in style. We have just the thing to express your appreciation of him – from manly rocks glasses to toys for his home bar. Even cuff links for the dapper Dad! Here are our top picks for Pops:
#18284 Culver 'Piza' Old Fashioned Glasses, Set of 6, $300.00
#9449 Mid Century Austrian Bar Tool Set, $175.00
#18010 Vintage Everwear Trav L Bar, $150.00
#18591 Vintage Swank Fish Cufflinks, $120.00
#18580 Mid Century Couroc 'Fore' Golf Tray, $195.00
#17144 Guitar Music Box Decanter, $325.00
#16873 Classic Model Car Rocks, Set of 7, $210.00
#16391 1940s German Traveling Cocktail Set, $375.00
#18500 Baseball Ice Bucket & Rocks Set, $225
Your Dad is sure to love a thoughtful gift from The Hour Shop!
Find more one-of-a-kind vintage gift ideas at our online store: