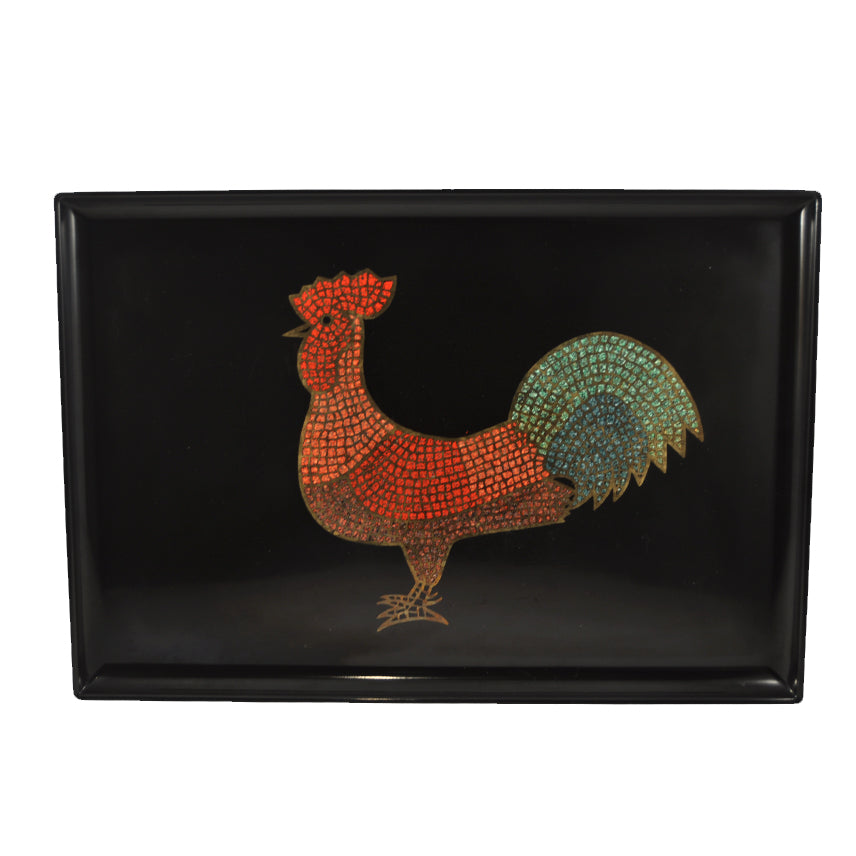 Whimsical and intricately designed, Couroc trays and barware were produced for more than 40 years by highly skilled artisans in Monterey, California.  Due to a unique process of hand-inlaying natural materials and fusing them into phenolic resin, no two Couroc pieces are exactly alike; each vintage mid-century modern piece celebrates unmatched beauty and durability.
The Couroc Company was founded by Guthrie Courvoisier and his wife Moira Wallace in 1948.  Prior to creating the company, Courvoisier ran the Courvoisier Galleries in San Francisco, which he inherited from his father in 1934. In 1937, when Walt Disney premiered Snow White and the Seven Dwarfs, Courvoisier saw a chance to represent a unique line of art - a desire of his that would grow in scope and vision, ultimately leading to the creation of the Couroc Company.  In 1938, Disney granted Courvoisier the exclusive right to market their original animation art. The art sold exceptionally well, but, in 1942, the Courvoisier Gallery closed to produce plastic parts for military aircraft. This too would ultimately fuel the successful creation of Couroc products.
Courvoisier's wartime efforts gained him valuable experience with different plastics.  He was able to take that experience, and his expertise with design and innovation, and develop a proprietary formula of phenolic resin that was durable enough to form into trays and bowls.  The formula was resistant to alcohol, boiling water, and cigarette burns, making the pieces the perfect addition to any home bar. 
Courvoisier's wife, Moira, was a child prodigy artist, who had her first art show in 1927.  She became chief designer for Couroc, and worked on the different inlay techniques involving woods, metals, shell, coins, plants and crystals.  Oftentimes the material used for the trays was sourced locally, with abalone, coral, and seaweed collected by skin divers among the rugged Monterey Coast.  Throughout the decades, the husband-and-wife team led skilled artisans in crafting unique pieces that rose to high popularity and were sold in many high-end department stores.
Significantly, each piece's design is slightly different because the inlays are set by hand - no two are ever exactly alike.  Made of brass, wood, rhinestones, shells, and other unique materials the eye-catching scenes seem to glow against the satiny black finish of the trays.  
Designs include seagulls soaring high over a tiny fishing boat, a precocious karate cat, intricately detailed lighthouses, and so much more.  With these vintage mid-century trays, one is never enough.  As the company would say, "Any tray can serve a drink. Only Couroc can start a conversation."