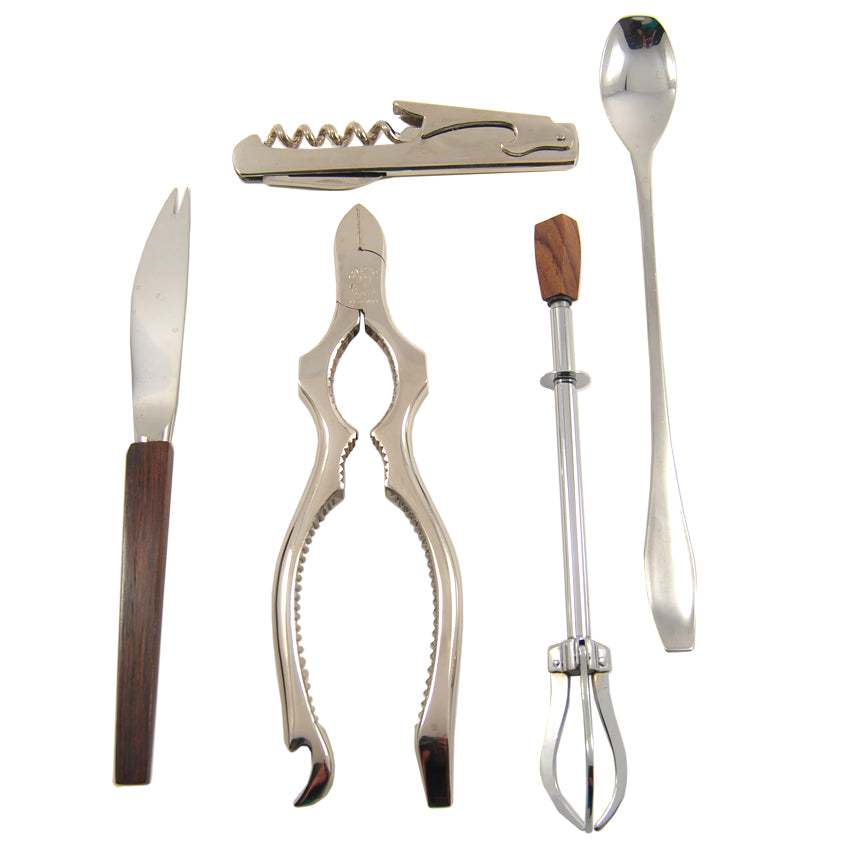 People appreciate drinks all around the world.  Whether cocktails, beer, or wine, drinks are enjoyed with friends at parties, bars and pubs, while the cares of the day melt away and spirits reconnect.  Yet this pastime, while universally recognized, is also culturally unique depending on which region of the world you visit. For example, we imagine Italians sipping wine in verdant vineyards, and the Japanese toasting with sake.  When it comes to Germany, most of us imagine large beer steins enjoyed in the presence of friends and strangers alike in an outdoor Biergarten. But is that all there is to drinking culture in this historically rich nation?
Definitely not! So we prepared a pitcher of our favorite citrus sangria and jumped into the research.  We know that appreciation of a vintage piece is amplified by something that truly shows its history, that helps the age of a piece to live and breathe while it's being enjoyed in modern times, so we want to share with you how pieces celebrate and show-off a German heritage.  
There is a historically fascinating use of different hallmarks and stamps on German barware.   For example, you might turn over a piece you own and see the acronym D.R.G.M. (with or without punctuation), followed by a number.  What does it mean?  Well, the letters stand for Deutsches Reichsgebrauchsmuster, and were a type of intellectual property protection.  What it means is that the design or function of the item was officially registered inside all of the German states, rather than locally as was the case before the introduction of centralized registration.  
The registration was a way to protect a product's use or design without having to pay Germany's exorbitant patent fees - they were 36 times higher than those in the United States.  The mark protected the item for 3 years. It was introduced in 1891 and remained in use until 1949; although, thanks to the mark's three-year lifespan, it is possible to find pieces made up till 1952 stamped with the hallmark.
What happened after 1949?  The war ended and Germany was split in two, becoming the Federal Republic of Germany (West Germany), and the Democratic Republic of Germany (East Germany).  The country remained divided from 1949 until 1990, with the famous Berlin Wall built in 1961. During that time, pieces manufactured in East Germany were stamped "Made in East Germany," or "Made in GDR;" while pieces from the West will show "Made in West Germany" or simply "Made in Germany."  Like the DRGM mark, the stamps therefore give a hint of when the piece was created.
Perhaps one of the most unique and fun pieces of German origin are nested cocktail shakers.  These pieces celebrate the combination of two German desires: that of travel, and that of elegant cocktail enjoyment.  Just like the famous Russian nesting dolls, nested cocktail sets fit perfectly together, allowing for efficient and easy transportation by car, train, or airplane.  Sets usually included a shaker and multiple shot glasses, but could also include coasters, beautifully designed travel cases, or even accessories like a nut/olive dish or corkscrew.  Some shakers made in the 1920s and 1930s resemble Zeppelins, an innovative design inspired by the popularity of Count Zeppelin's airships.  This act of transforming drink accessories from utilitarian to entertaining was central to the rise of cocktail culture throughout the 1920s and 1930s.
Those pieces of German vintage barware can still be used and treasured today.  The story doesn't stop with the retiring of the DRGM mark, or the end of the Berlin Wall.  It continues to this day as collectors and enthusiasts find these historical pieces and give them new life in their home bar.  Next time you toast a stunning mountain tableau with your travelling bar set and best friends, take a moment to think of the years of history that led to the invention of that piece of barware.  Doesn't that make the drink, and the moment, all the richer? Prost!