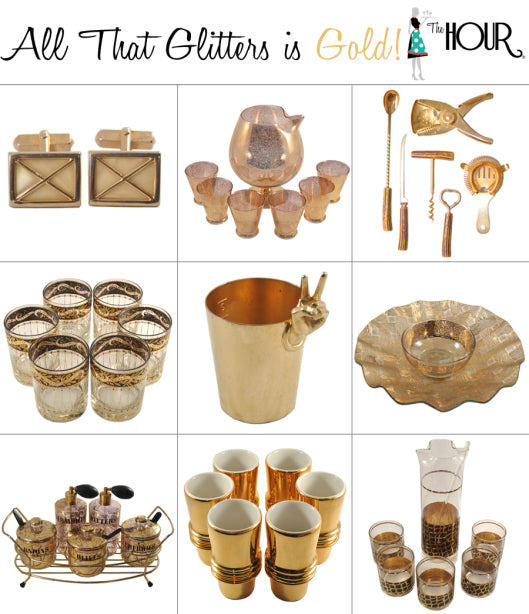 Watch the stars shine as your guests swoon!
Magic, winners, red carpet fashion.  Only 5 more days until the 87th Academy Awards!  Don't you think your Oscar party this year deserves the very best?  Think gold.  Think luxurious.  Think classic.  Think vintage.  Vintage barware, glassware and accessories at their very best will certainly give your party that extra edge so worthy of its own award.  And we're here to help you out:
#17618 Swank Mother of Pearl Cufflinks, $60.00
#17197 Gold Shimmer Cocktail Set, $295.00
#15953 24k Gold Lifetime Cutlery 6 Piece Bar Tool Set, $325.00
#18309 Set of 6 Culver Gold & Black Double Rocks Glasses, $355.00
#13550 Napier 2 Shot Gold Plated Jigger, $250.00
#13889 Gold Basketweave Chip and Dip Server, $225.00
#18294 Gold Shimmer Garnishes Caddy Set, $350.00
#12676 Set of 6 Gold Ceramic Ribbed Tumblers, $90.00
#18291 Black & Gold Snakeskin Cocktail Set, $300.00
Have fun this year cheering for your favorite actor and movie.  And we'll see you at the Oscars!!
For more, visit us at: