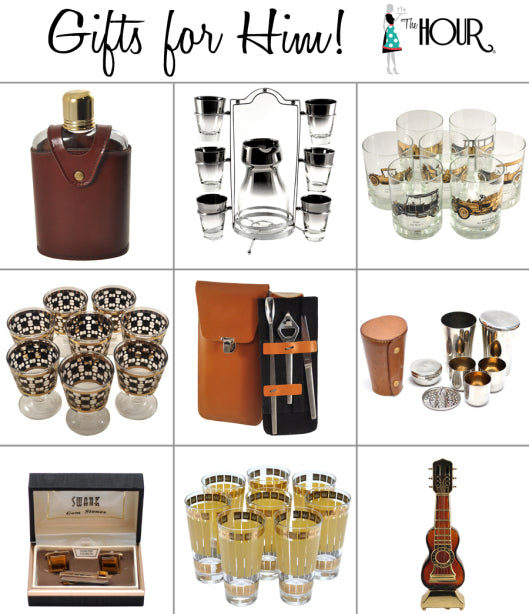 One-of-a-kind gifts for your one-of-a-kind guy!
This Valentine's Day, make him swoon for you.  He'll simply adore the fact that you've noticed how he likes his cocktails.  Simple and sweet, just like you!  We've got many great vintage barware and glassware gift ideas for you to knock his socks off this Valentine's Day:
#11976 Swank Leather Cased Glass Flask, $160.00
#16593 Mercury Fade Cocktail Pitcher Caddy Set, $375.00
#16873 Set of 7 Classic Car Rocks Glasses, $210.00
#17823 Set of 8 Black & Gold Footed Cocktail Glasses, $320.00
#9449 Austrian Leather Cased Bar Tool Set, $175.00
#16391 Nested German Travel Cocktail Set, $375.00
#15806 Swank Tiger Eye Cufflink Set, $130.00
#16344 Set of 8 Fred Press Gold Crown Collins Glasses, $320.00
#17144 Guitar Shaped Musical Decanter, $325.00
Give him vintage.  He'll love you forever.
For more, visit us at: