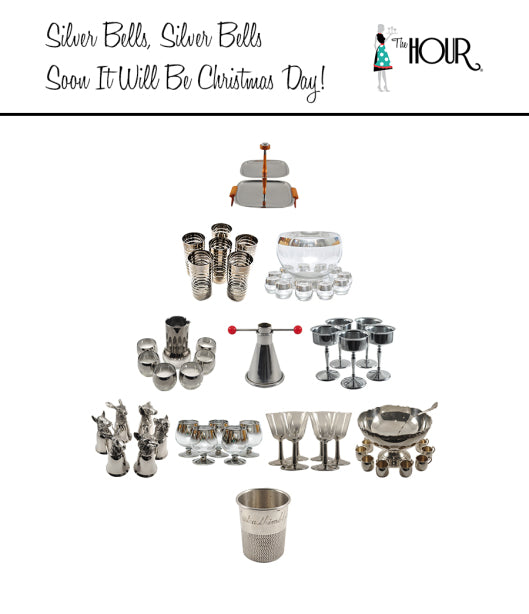 Soon it will be Christmas Day!! 
Are you ready for the big day?  If you're like us, there are so many last minute things to do, parties to attend and gifts to get.  The week before Christmas is always full of anticipation and fun!  Our Silver Gift Guide this year gives you great last minute gift and entertaining ideas.  From cocktail glasses to punch bowls to barware, there's something for everyone.
#13284 Glo Hill 2 Tier Butterscotch Bakelite Tray, $350
#15853 Mercury Rings Collins Glasses, $300
#11667 Dorothy Thorpe Sterling Band Punch Bowl Set, $1,900
#18019 Mercury Fade Roly Poly Cocktail Pitcher Set, $425
#13582 Fay Red Bakelite Trap Jigger, $85
#19402 Chrome Art Deco Cocktail Stems, Set of 5, $200
#18271 Animal Stirrup Cups, Set of 6, $900
#14015 Mercury Fade Snifters, Set of 5, $180
#19421 Mercury Fade Cocktail Stems, Set of 6, $210
#9791 Towle Silverplate Punch Bowl Set, $1,800
#10839 Towle Sterling Thimble Jigger, $200
We hope our silver collection brings a twinkle to your eye and a sparkle to your day.  And we wish you all a very Happy Holiday season!
For more great Holiday gift giving ideas, visit us online at TheHourShop.
Cheers!