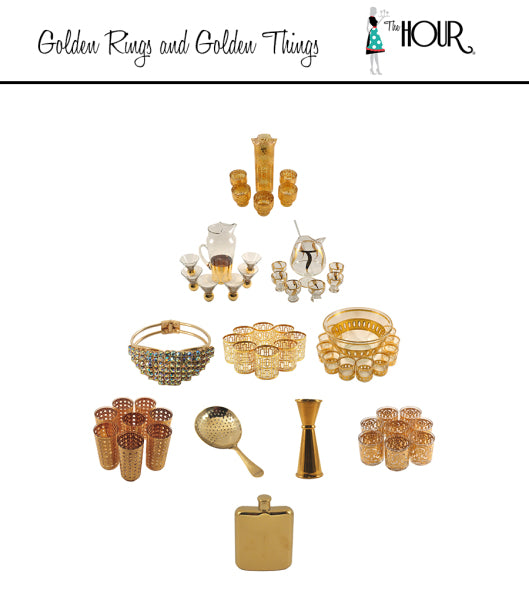 On the fifth day of Christmas my true love gave to me five golden rings! 
Of all of the stanzas of the 12 Days of Christmas, this is probably everyone's favorite.  And no wonder why.  Who doesn't like those warm, delicious hues of gold on anything, right?  Well, we decided to give you some of our very favorite gold items for your gift giving this year in our Gold Holiday Gift Guide.
This year's new and vintage picks include:
#11705 Gold Overlay Cocktail Pitcher Set, $350
#13341 Gold Base Cocktail Pitcher Set, $575
#3477 Gold Swirl Cocktail Pitcher Set, $400
#13649 Aurora Borealis & Gold Clamper Bracelet, $150
#19876 Imperial Glass Gold Shoji Rocks Glasses, Set of 8, $775
#4979 Culver Antiqua Gold Punch Bowl Set, $550
#14956 Culver Canella Gold Collins Glasses, Set of 8, $400
#20153 Gold Tone Julep Strainer, $19.50
#20117 Gold Tone Double Jigger, 1 and 2 oz., $19.50
#16744 Georges Briard Gold Scroll Rocks Glasses, Set of 8, $320
#19882  14k Gold Plated 6 oz. Flask, $55
We think every home bar should include at least one gold item.  And we believe the gift of gold is sure to make a lasting memory.
For more great Holiday gift giving ideas, visit us online at TheHourShop.
Cheers!