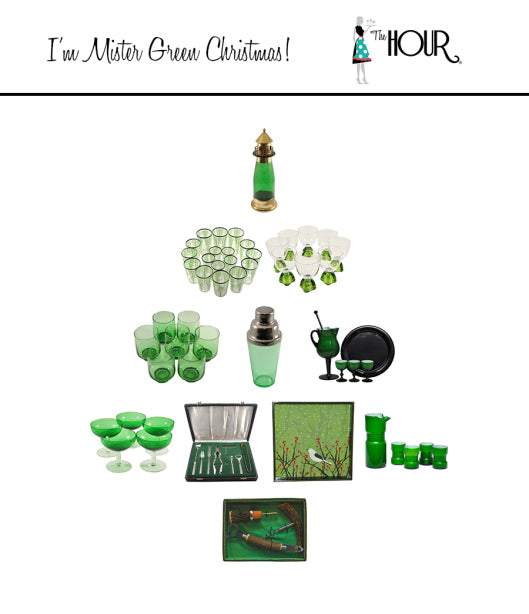 They call me Heat Miser, whatever I touch
Starts to melt in my clutch
I'm too much! 
Yikes the cold weather has arrived!  And we can't help but think of Mister Heat Miser for our Green Christmas Gift Guide.  From decanters to cocktail glasses to shakers & pitchers to bar tools & trays, we think these green items are sure to heat up your holiday festivities. Whether vintage or new, we think our green selection will have you singing the Heat Miser song in your head all day long.  Cheers to Mister Green Christmas!
#17837 Green Glass Musical Lighthouse Decanter, $575
#7329 Green Stripe Art Deco Hand Painted Tumblers, Set of 17, $350
#19848 Fostoria Green Base Crystal Capri Cocktail Glasses, Set of 8, $400
#9574 Green Weighted Mid Century Rocks Glasses, Set of 7, $175
#16892 Green Glass Cobbler Cocktail Shaker, $375
#14757 Carlo Moretti Italian Green Cased & Black Stem Cocktail Set, $725
#19828 Green Cup Twisted Stem Coupe Glasses, Set of 5, $225
#18272 Abercrombie & Fitch English Stag Handle Bar Tools, Set of 9, $1,500 
#13219 Snowy Bird 15″ Square Tray, $100
#11870 Emerald Green Cocktail Pitcher Set, $425
#14914 West German Stag Handle Bar Tools, Set of 3, $250
With the weather outside so frightful, we think our Green Holiday Gift Guide will surely heat up any dismal day!
For more great Holiday gift giving ideas, visit us online at TheHourShop.  Cheers!