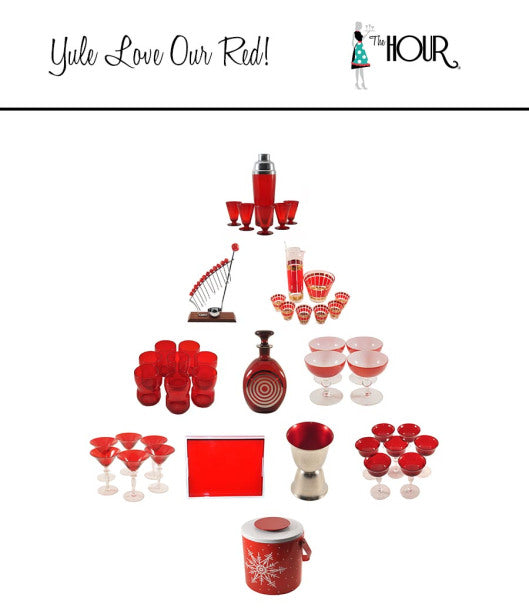 Ho, Ho, Ho!!!  Only 10 more days to go!
Still haven't found that someone special an extraordinary gift this year?  In honor of the big guy, why not think red?  We've conjured up some delicious red items for you with this Holiday Gift Guide.  They're fun, they're festive and they are sure to heat up your holiday cheer!
Red holiday gifts to surprise and delight include:
#19661 Ruby Red Art Deco Cocktail Shaker Set, $600
#17415 Art Deco Red Dice Bakelite Cocktail Picks & Ladle Set, $550
#5460 Fred Press Mid Century Red & Gold Crown Cocktail Set, $525
#6722 Red Pinched Glass Tumblers, Set of 8, $200
#12713 Ruby Red & Mercury Bullseye Decanter, $700
#19867 Red & White Cased Glass Coupes, Set of 4, $200
#19837 Morgantown Red Cup Cocktail Glasses, Set of 6, $420 
#15469 Red & White Trim Lacquer Serving Tray, $160
#16397 Reed & Barton Red & Green Silverplate Jigger, $175
#18229 Morgantown Ruby Red Cocktail Coupes, Set of 7, $350
#6807 Georges Briard Snowflake Ice Bucket, $125
We hope you'll heat up your holiday gift giving this year with a little red in mind!
For more great Holiday gift giving ideas, visit us online at TheHourShop.  Cheers!