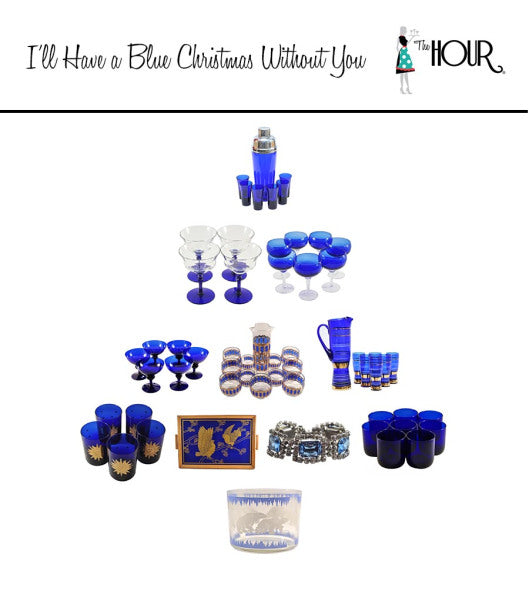 Too bad Elvis didn't have these dreamy Blue vintage barware and glassware items to pick up his spirits! 
Our next Holiday Gift Guide promises to cheer you up!  Worried you'll have a Blue Christmas this year missing your loved ones?  Well, we think you should embrace the Holiday spirit and celebrate those you love in great "Blue" vintage style.  Shake, serve, toast and sparkle with all things Blue in mind.  It will cheer you up in no time!
This year's Blue Holiday picks include:
#16365  Cobalt Art Deco Cocktail Shaker Set, $650
#19794 Cobalt Stem Paneled Coupe Glasses, Set of 4, $300
#19814 Cobalt Cup Twisted Stem Coupe Glasses, Set of 6, $315
#19393 Bjorkshult Cobalt Coupe Glasses, Set of 6, $420
#14831 Culver Azure Scroll Cocktail Pitcher Set, $625
#13040 Bohemian Cobalt & Gold Cocktail Pitcher Set, $950
#18543 Culver Celestial Cobalt Rocks Glasses, Set of 5, $225
#11697 Reverse Painted Blue & Gold Doves Art Deco Tray, $250
#19948 Blue & Clear Mid-Century Rhinestone Clasp Bracelet, $170
#19392 Libbey Cobalt Rounded Rocks Glasses, Set of 8, $280
#19283 Hazel Atlas Art Deco Polar Bear Ice Bucket, $175
Make Elvis happy this Holiday season, and have a Blue Christmas!
For more great Holiday gift giving ideas, visit us online at TheHourShop.  Cheers!