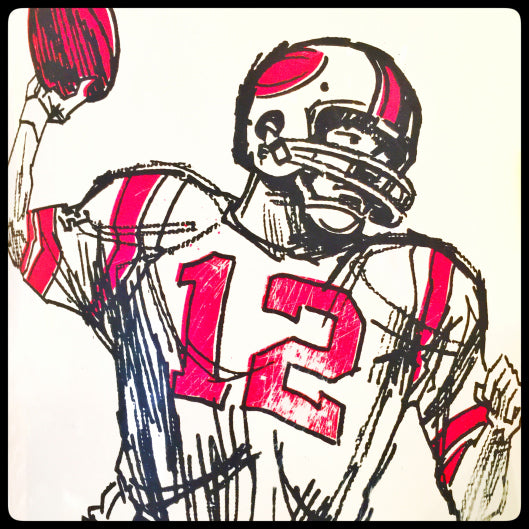 Time to get your bar game on!
It's Super Bowl Sunday and we're ready to party with all our football enthusiast friends!  And, even if you're not a football enthusiast, it's a great reason to throw a fun party at home.  Since it's the 50th anniversary of the Super Bowl, we feel it's only appropriate to celebrate with a throw-back party using vintage barware and glassware from the 1960s.  And we've got some great ideas for you to catch!  Here's our game day line-up:
For our Denver Broncos fans, we've put together an assortment of festive orange barware, including a 1960's funky faux leather wrap tray, rocks glasses and matching decanter and a set of Tiara Horn beer glasses made by Indiana Glass.  We're serving Colorado-based Blue Moon Belgian White Ale and an old fashioned made with Colorado's own Breckenridge Bourbon and Hella Bitters Orange Bitters.
Our Carolina Panthers fans will be so pleased when we serve them out of Carolina blue vintage Georges Briard rocks and collins glasses.  We'll mix up a batch of Carolina-made White Whale's Mob Man cocktails using Carolina's own Defiant Whisky in our swanky 1960s Gorham silver plate pitcher.  For our Carolina beer fans, we're serving Carolina brewed Oskar Blues Dale's Pale Ale.  Our vintage formica and silver plate tray will kick these drinks into the end zone!
For all our friends whose teams did not make it into the Super Bowl this year, do not fret.  We're tossing a great serving set your way!  In honor of our local Washington Redskins, we're serving up local spirits and beer.  On our black Pacific Connections tray, you'll find a fantastic Georges Briard football ice bucket to scoop up some ice for your vintage football tumbler and make a One Eight Distillery Rock Creek White Whiskey old fashioned using Bitters Tears (pun intended) Peppercorn Bacon Bitters.  For our local beer lovers, we couldn't help but serve up Alexandria-based Port City Monumental IPA in vintage "I Bet I Can" pilsner glasses.  And we bet your team can make it to the playoffs next year!
For more great vintage barware and glassware ideas, visit us on-line at: