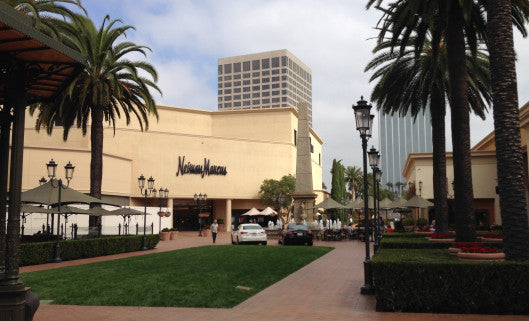 We are thrilled to announce the opening of The Hour in two new locations:  Neiman Marcus, Newport Beach, California and Neiman Marcus, Chicago!
October was a very busy month for us here at The Hour.  In addition to serving our guests in our Alexandria, Virginia store and adding to our wonderful collection on-line, we continued our collaboration with Neiman Marcus and opened two new boutiques.  In mid October, we found ourselves flying out to beautiful Southern California to open The Hour in Neiman Marcus, Fashion Island, Newport Beach.  For those of you who live in Orange County, CA, you know that Fashion Island is a wonderful shopping destination.  The outdoor high-end mall is full of fabulous stores.  Like our previous locations, we opened in the Gift Department of Neiman Marcus, right next to their wonderful dining cafe Mariposa.
Just in time for the holidays, our vintage items look absolutely spectacular nestled into their new spot.
Our items are also intermingled with many of Neiman Marcus' new product offerings.  It confirms our belief that good design endures the test of time.
Less than a week later, we found ourselves flying out to Chicago to open our next new location in Neiman Marcus.  Located on Michigan Ave., this location is on Chicago's well-known Magnificent Mile.  For our opening, we participated in Neiman Marcus' October In Circle Event.  We invited Deidre Darling, one of the Windy City's talented bartenders, to create two mocktails for us to serve at our opening.  One was a passion fruit, green tea and sour cherry punch, and the other a bourbon barrel-aged chai tea with maple cider, Angostura bitters and fresh pomegranate seeds.
We had a wonderful event and celebrated that evening "researching" some of Chicago's best cocktail establishments including Bottlefork, Bangers & Lace, the Lockwood Bar at The Palmer House and The Aviary.  We were lucky to catch Charles Joly at The Office at the end of his residency there and enjoyed a particulary good night cap.
We hope that you have the opportunity to visit our new locations in Chicago and Newport Beach and look forward to seeing you at our flagship store in Alexandria, Virginia!