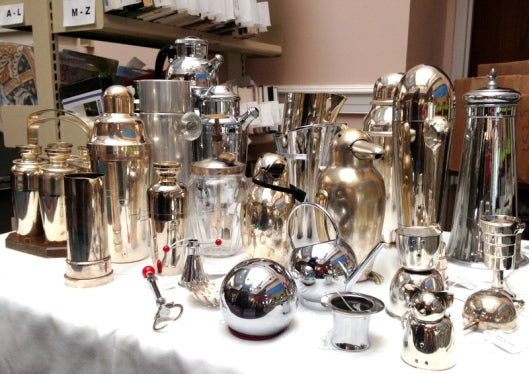 It was a Roaring good time!!
This past weekend, I had the pleasure of speaking about "Cocktail Culture in the Twenties" at the Alexandria Public Library, Barrett Branch as part of their All Alexandria Reads weekend festivities.  The library was host to wonderful music, entertainment and lectures that day all centered around the era of flappers and Prohibition.
To start off the event, we served Lemonade and Thyme Infused Mocktails, greatly appreciated by our wonderful audience.  The simple and refreshing mocktail contained lemonade, thyme infused simple syrup and sparkling water, served stylishly in our vintage McKee Punch Bowl.
I spoke about the five major events that I believe shaped the Roaring Twenties and the style of glassware and barware used during the era:  the 17th Amendment (the right of women to vote) and the Temperance Movement; the 18th Amendment (Prohibition); the establishment of "Speakeasies"; the Machine Age and mass production; and, finally, the 1925 International Exposition of Modern Industrial and Decorative Arts held in Paris that formally introduced the world to Art Deco design.
Key barware and glassware manufacturers were introduced along with "new" products such as the invention of bakelite.
Audience members learned the reasoning behind small glassware.  Glassware followed the "Rules of 3":  the best cocktails contained 3 ingredients, were 3 ounces and were meant to be consumed in 3 sips (ensuring that drinks never got warm).  The definition of a cocktail (a mixture of spirits, sugar, water and bitters) along with the origins of the world "cock"tail were also discussed. Audience members also learned that the rooster motif became emblematic at the time and remains popular today for cocktail glassware and barware.
After the presentation, audience members were able to admire the variety of barware examples brought to the lecture and had many questions to ask!
Capitol Cocktails, which explores the historical and present cocktail culture of the Washington, D.C. area, was also available for purchase following the lecture.  And we are proud to say that our wonderful book is now part of the Library's permanent collection!