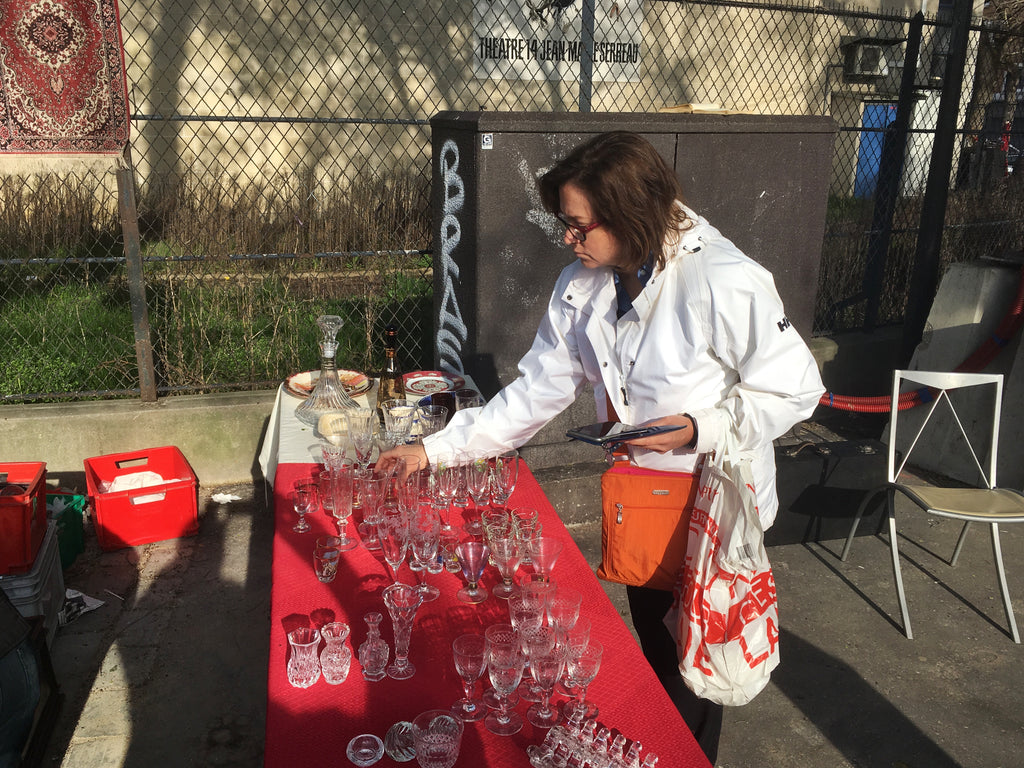 I have always been fascinated with things from the past, especially those things that tell a story within a historical context.  I think that's why I am consistently drawn to antique and vintage items.  This even extends to my own environs.  It's why I chose Old Town Alexandria as not only my hometown, but the place I wanted to open The Hour. 
As far back as I can remember, I have always scouted for the unusual and the extraordinary, especially when purchasing personal items and items for my home.  I quickly found that by looking for goods at antique store, fairs, markets and estate sales, I often found things that I had never seen before or items that I thought were truly little pieces of "usable art".  I am always fascinated when I learn of their provenance.  I also believe the craftsmanship and quality of these items from the past, many hand-made, just can't be beat or replicated.
I am often asked "where do you find the items for your store?"  My answer is simple:  pretty much everywhere!  And after almost three decades of "the hunt", I should know.  But if I were to expand on that answer, I would say the more interesting items I find are often off the beaten path.  Further, my hunt is a constant hunt.  It doesn't matter if I am visiting a friend an hour away, or accompanying my husband on business trips, or travelling to buy new merchandise at Trade Shows, or visiting relatives, or just visiting cities I've never been before.  I am always on the hunt.  I'll go to flea markets I either know of or read about, I'll research antique stores in a new local I've never been to, I'll scour estates sales (and, better yet, websites listing upcoming estate sales) and, when travelling, I'll simply stop and scour a place if it sparks my interest.  And I especially love the hunt when I travel abroad.
My recent trip to Europe is a great example of "how I hunt".  Two of my favorite cities for finding extraordinary vintage glassware and barware are Paris and London.  And I'm not talking about finding these goods at high-end antique stores (that carry great finds but mostly at exorbitant prices).  I'm talking about hunting at the markets.
In Paris, I enjoy searching the "Marché aux puces", or literally translated "flea markets".  The most famous flea market in Paris is called Les Puces de Saint-Ouen, and is located at the Porte de Clignancourt.  It is commonly referred to just as Les Puces (The Fleas) and is the largest antique market in the world.  Just north of Paris in the 18th Arrondissement (and easily accessible by the Paris Metro), it encompasses nearly three acres and holds 14 markets, some covered and some open-air.  I can truly spend days at this market and not see it all! 
On my recent visit, though, I only had a day to explore so I chose to visit a lesser known market but one that I believe is equally as fun to search.  On this trip, I visited the Marche aux Puces located at the Porte de Vanves (or commonly referred to as the Puces de Vanves).  The Puces de Vanves are held on Saturdays and Sundays only (year-round) and are located in a working class neighborhood just south of Paris in the 14th Arrondissement (again, easily accessible by the Metro and a fun streetcar ride).
This friendly "brocante" (or market for second hand goods) was established in the 1920s, and is a smaller market than Les Puces, with only around 350 open-air vendors.  It's easily scoured in a day and, in fact, is only open from 7a-1p (so I usually go early for better picking).  Most of the vendors here only take cash and few speak English.  It's truly a local Parisian flea market.  Although there are great bargains to be had on vintage glassware, this time I was on the lookout for small non-breakable "pick-up" items (that are easier to transport in my luggage).  I found a great assortment of vintage absinthe spoons, silver plate cups, cocktail shakers and an assortment of other bar tools.  Most of these items were offered at fair and reasonable prices (although I always tried to bargain, and was generally pretty successful!).
  Beautiful glassware at the Puces de Vanves.
Some of my negotiated finds!  
Usually on my trips to France, I hope to hunt at the vide-greniers (or "attic sales").  These are local, side-of-the-road flea markets held in the smaller French towns and cities.  They usually occur only once a year, and for only a day or two (some of the best are held in Provence during the summer months). While I did make it to Caen on this trip, I missed its vide-grenier by a day.  Just why do I like to shop the vide-greniers?  It's because most of the vendors are not professionals or parts of a brocante, but are rather local folks selling their own vintage and antique goods.  They are so much fun to explore and it's at these vide-greniers that I often find truly extraordinary barware and glassware at unbelievable prices.  If you find yourself heading to France (and even other European countries), you can easily search the vide-greniers website for dates at www.vide-greniers.org.
The second part of my trip to Europe had me taking the Chunnel train to London.  A quick 90-minute ride from Paris had me in London and ready to explore the markets with no jet lag. 
My first stop on Friday morning was the Bermondsey Square Antiques Market.  This small market is only open on Fridays (closes around 1p) and is known for selling genuine antiques from traders who are true experts.  Their prices are very reasonable and the vendors will bargain with you when they can.  As they say, the early bird catches the worm at this market.  Again, I arrived early and had some great buying success!  Not only do I consistently find the vendors knowledgeable and the goods reasonable, I love this small market for its history.  This market was relocated from Caledonian Road (following damage the area sustained during WWII) to the working class neighborhood of Bermondsey.  It's a quirky area and not easy to reach (I took the London Underground and then a 10-minute bus ride to get to the Square).   But this market has an infamous reputation: it was originally a market where stolen goods could legally change hands if the buyer who bought an item did so in good faith, no matter the provenance, between sunrise and sunset (under a medieval law know as market overt).  In 1995, the law was abolished and now all antique and vintage items sold are truly legal and authentic.
After picking up a few items at Bermondsey Market in the morning (mainly more bar tools and flasks), I headed to one of my favorite vintage haunts in London, Alfies Antiques Market.  Alfies is London's largest indoor antique market and houses over 75 dealers, many specializing in Mid Century Modern decor. 
While there are some wonderful dealers who offer gorgeous vintage glassware at Alfies, I was on the hunt for barware and, again, found some more vintage items I just had to buy.
When I am in London, Saturday morning for me always starts with the Portobello Road Market located in Notting Hill.  This market has over 1000 vendors (both indoors and out), including vintage and antiques dealers located in winding passage ways that are nestled within the buildings that align the main street. 
I never know what I am going to find at this Saturday morning market.  I often find great deals perusing the outdoor stalls.  And I'm always curious to see what some of the more permanent vendors have in their collections for sale.  Some of these collections are truly amazing.
After a long and successful shopping morning, I decided to next check out the Battersea Park Antiques Fair.  I was lucky to be able to visit the Fair as it is only held in London three times a year, and the weekend I was in town was one of them.  The Fair focuses not only on antiques but decorative arts as well.  Many vendors at this Fair come from the English countryside so it's always a treat to see what finds are still available outside of London proper.
Again, I found some great items to purchase, and others to covet and continue my search for (at more affordable prices!).
Every trip I take abroad finds me visiting many old haunts for shopping as well as exploring new places.  This trip was no exception.  I always return with purchases that I never have any regrets over.
And the one thing all my trips have in common is that they have me yearning to hunt for even more treasures to bring home to The Hour. 
Cheers,  Victoria