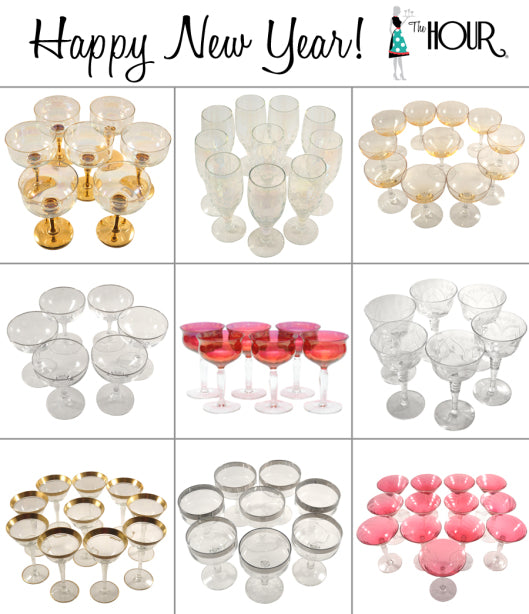 Cheers to you this New Year!
Hello 2015!!  We hope you enjoyed your New Years Eve and that your New Years resolutions will all come true.  This year, we promise to continue bringing you the truly extraordinary and wonderful in vintage barware and cocktail glassware.    We've also got some new ideas on the horizon and look forward to sharing those with you as our plans progress.  They promise to be truly inspiring so we hope you'll stay tuned!
And to help you start your year off right, we think owning a set of fabulous coupes are in order.  They're perfect for serving just about any cocktail.  Here's some of our spectacular collection:
#17661 Iridescent Gold Rim & Stem Coupes, Set of 7, $280.00
#18147 Draping Iridescent Stems, Set of 10, $350.00
#18207 Fostoria Yellow Cup & Clear Stem Coupes, Set of 11, $440.00
#18132 Fostoria Silver Rim Coupes, Set of 6, $270.00
#16280 Ruby Red Panelled Marie Antoinette Coupes, Set of 6, $270.00
#18063 Etched Art Deco Cocktail Coupes, Set of 6, $450.00
#16999 Tiffin Gold Embossed Panelled Coupes, Set of 10, $450.00
#18004 Mercury Band Coupes, Set of 8, $320.00
#18100 Art Deco Cranberry Swirl & Clear Stem Coupes, Set of 13, $1,000.00
We hope all your wishes and dreams come true this year!
For more, visit us at: